Curious Kids Learn Faster. Here's How You Can Guide Your Kids To Stay Curious!
Brain development happens rapidly during the first few years, and continues to develop throughout childhood. It is during this phase that children experience windows of opportunities, where learning takes place almost effortlessly.
 
It is normal for parents to want their children to be fast learners, but remember, children need to learn the basic skills in order to develop other advanced skills. Studies have shown that children's emotional well-being and social competence play vital roles in their emerging cognitive abilities. So a healthy environment is what children need in order to thrive and achieve their developmental milestones accordingly, so they can enjoy a wholesome learning experience.1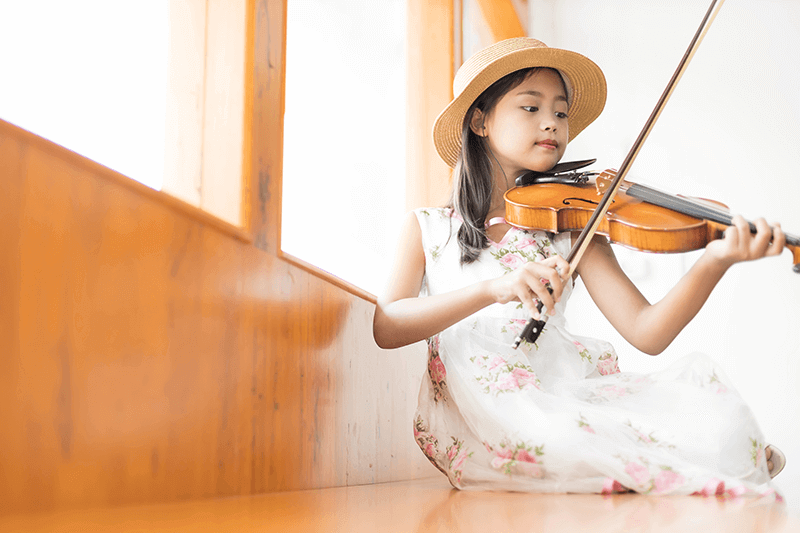 Children are natural learners, so keeping them curious helps a lot in developing their love for learning. Having a sense of curiosity is important to ensure a child's healthy development and well-being. When children are curious, they learn faster and better. They retain information very well, and in fact, perform better in school too.

Tips To Encourage Children's Curiosity

Help children stay curious by following these fun and easy tips:
 
Make time for family-time
Go for morning or evening walks, weekend trips to the park, or create your own family tradition, e.g. an ice cream treat to celebrate an achievement or a weekly game night.
 
Support their interest
Letting children explore their own interests provides them with an opportunity to develop new skills and knowledge.
 
Encourage observation and ask questions
Observe everyday things with your children and ask open-ended questions like who, what, how, why, etc. For example, ask them about their meal and what they think of it - What are you eating? Does it taste good? What do you like about it? Do you know how mummy made it?
 
Invest in experiences rather than presents



Children remember experiences. Therefore, fill their childhood with fond memories like visiting new places and experiencing new adventures together. It is one of the greatest gifts you can give to your children.
 
Open up their eyes and minds
Let the kids plan the next family outing. Ask them where they would like to go, what they would like to see and try next. Expose them to different cultures and people as much as you can. You're not only stimulating their curiosity but also encouraging them to be independent learners, thinkers and decision makers.
 
Encourage independent play
This develops their perseverance and problem-solving skills. Let them discover things on their own terms. Children learn by trial and error, so give them a hand when they fall and support them to get back up and try again.
 
Let them enjoy their childhood



Messy play is important for growing children to develop fine and gross motor skills, coordination and concentration. Childhood is supposed to be full of wander, so as long as their health and safety are in check, let them play freely and satisfy their curiosity.

Supporting Children's Development With Good Nutrition
There is no doubt that good nutrition plays a major role in children's learning potential. Good nutrition increases brain functions and helps children to focus better. Growing children especially, require a well-balanced daily diet in order to achieve a strong and healthy growth. As the most crucial stage of brain development happens in early childhood, it is very important for children to receive the proper nutrients that support brain connections, too.

Enhance Children's Brain Connections With Sphingomyelin
Curious kids ask A LOT of questions, which shows that their brain connections are working well. You can help support your children's brain connections with certain key nutrients, and one of the essential nutrients that is known to have a positive influence on children's brain development is sphingomyelin.

Sphingomyelin helps brain connections by 10x faster* and is one of the fundamental nutrients that supports children's brain development.

*vs unmyelinated neuron.

Here are some interesting facts about sphingomyelin:
 
It is a phospholipid that is an integral component of the myelin sheath, which coats the nerve fibre (where messages get transmitted between neurons). This process is called myelination.2
 
It is important for myelination and supports children's learning.3-5


What is myelination?
Myelination has been linked with cognitive and motor skills.6-8
Myelination speeds up neuron connections, which may benefit a child's cognitive development.9-11
 


Help your children get the nutrients they need to grow strong and healthy. Guide them to keep their curiosity growing every day so they can learn faster and achieve their full potential.

S-26 GoldⓇ ProgressⓇ is specially formulated with sphingomyelin, DHA, 2'-FL and oligofructose. Support your child's growth with appropriate nutrition and sufficient rest to help him Think Quick and Learn Fast.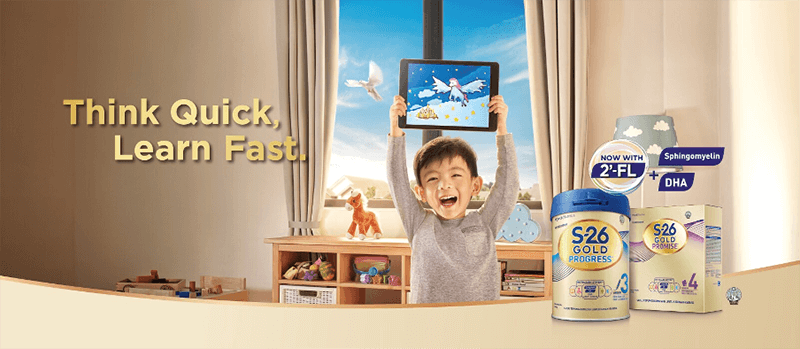 S-26 GOLDⓇ PROGRESSⓇ is now formulated with innovative ingredients to provide our most advanced formulated milk for children.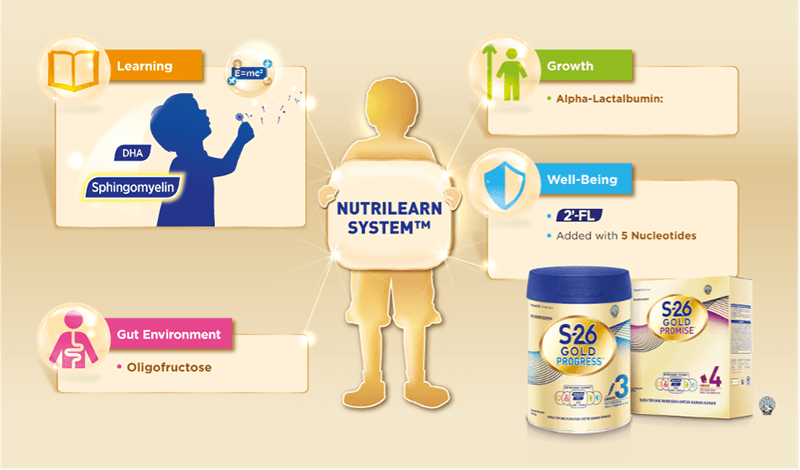 NUTRILEARN SYSTEM™ is a scientific blend of nutrients designed with outstanding children in mind, offering them the nutrients they need to support learning and overall growth & development.
Disclaimer: This content is shared for informational purposes only and not intended to be a substitute for professional/medical advice, diagnosis, or treatment. We recommended that you always seek the advice of your healthcare professional for any questions you may have regarding a medical condition/specific situation.
References:
 
Salzer JL, Zalc B.Curr Biol. 2016;26:R971-R975.
Henríquez-Henríquez MP, Solari S, Quiroga T, Kim BI, Deckelbaum RJ, Worgall TS. Front Neurosci. 2015;9:300.
Tanaka K, Hosozawa M, Kudo N, et al. Brain Dev. 2013;35(1):45-52.
Deoni S, Dean D 3rd, Joelson S, O'Regan J, Schneider N. Neuroimage. 2018;178:649-59.
Scchmithorstet al., 2005; Deoniet al., 2016; Chevalier et al., 2015; Buchelet al., 2004; Catani et al., 2007; O'Muircheartaighet al., 2013; nagyet al., 2004; Beaulieu et al., 2005; Short et al., 2013; Turkenet al., 2008; Bartzokiset al., 2010.
Martinez & Mougan1998; Kinney et al., 1994; Don et al., 2014; Tanaka et al., 2013; Bentejacet al., 1988 & 1989; Oshidaet al., 2003; Vickers et al., 2009; Gustavssonet al., 2010; Stiles & Jernigan. 2010; Prado & Dewey 2014.
LinderkampO et al (2009).Int. J. Prenatal and Perinatal Psychology and Medicine; 21: 4–16.
Deoni, S.C et al (2016).Brain Structure Function; 221:1189-1203.
Chevalier, N et al (2015).PLOS One: https://doi.org/10.1371/journal.pone.0139897.